Nurse Educators having an immense expereince in OSCE Training and assessment will run our preparatory OSCE workshops. Why not give us a call to discuss your OSCE training need and by preparing with us you will give yourself a high chance of passing the OSCE test the part 2 test of competence in your first attempt.
Health Skills Training provides OSCE onsite face to face training and OSCE online learning.
Our next OSCE onsite face to face training date in Manchester & London are available on this page below or under our 'Courses' page
Scroll down to check the dates for more face to face training till June 2021
Contact +44 161 743 4626 or +44 7711 554472 for more information.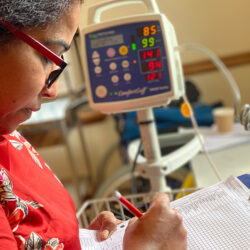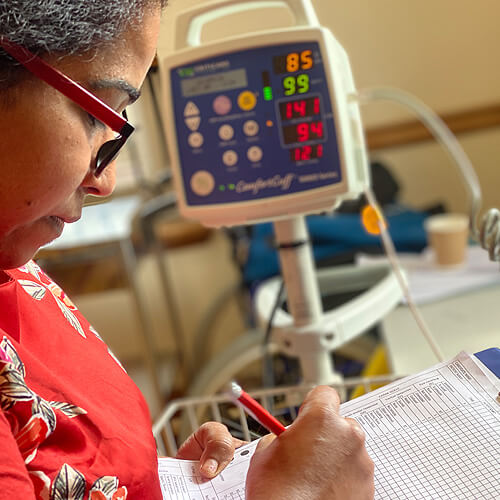 Adult Nursing OSCE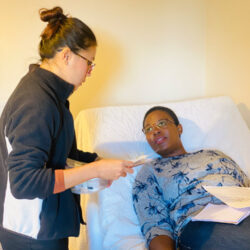 Mental Health Nursing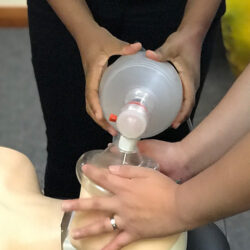 Paediatric (Children's) Nursing OSCE
The Legacy OSCE (Old OSCE) is Made up of Six Stations, Each Lasting From Eight to Fifteen Minutes
Four (APIE) stations relate to patient journey will be scenario based:
1) Assessment – Holistic patient centred assessment (Practical Station)
2) Planning (Written station – writing a care plan)
3) Implementation (Practical-administering medications)
4) Evaluation (Written Station-Evaluation or care to complete a transfer of care letter) All of which are stages of nursing and midwifery care.
Two stations will be testing practical clinical skills:
Make sure that you read the station instructions carefully. Do not be afraid to look at them again if you are unsure. You will not be penalised for this. Typical skills which may be tested either on their own or within a nursing/midwifery scenario include: 
Basic life support – cardio-pulmonary resuscitation (adult, child, baby)
Intramuscular Injection
Subcutaneous Injection
MDI- Metered Dose Inhaler
Peak Expiratory Flow (PEF)
MSU & Urinalysis
Catheter Sample of Urine
Removal of Urinary Catheter
Safe disposal of sharps
Medication administration
Peak flows
Wound care ANTT ( 15 minutes allocated for this skill)
Fluid Balance
Hand hygiene
Calculating drug dosages
Palpation (Midwifery)
Auscultation of foetal heart (Midwifery)
New born check (Midwifery)
Each of the OSCE six stations has standardised marking criteria against which all candidates are assessed. Candidates are assessed by a panel of highly qualified examiners. Candidates are expected to demonstrate competence through safe and effective evidence based practice. The test of competence is based on current UK pre-registration standards.
OSCE test assessment is very strict and there is no room for any errors. All nurses prior to taking OSCE are advised to obtain a thorough training where you can practice properly with all the equipments and get a specific feedback to improve performance.
NMC recommends list of reading prior to the test they are listed below:
Generic nursing domains
Domain 1: Professional values
Domain 2: Communication and interpersonal skills
Domain 3: Nursing practice and decision-making
Domain 4: Leadership, management and team working
Field specific competencies
Adult nursing 
Additional recommended reading for overseas applications
Standards
Guidance
The Code
Hearings and Outcomes: these pages list direct and current insight into unacceptable standards of nursing or midwifery in the UK.
Detailed information can be checked on NMC website
Health Skills Training (HST) Ltd OSCE preparatory training workshop aims to prepare candidates to improve their confidence level to face the part 2 test.
This is done through practice based skills scenarios where by candidates will understand the overall process and expectation at the test. On our OSCE training each individual candidate will be given opportunity to practice the scenarios and  the practical skills.
HST can help you to pass your OSCE. Why not give us a call to discuss your training needs: office phone +44 161 743 4626, mobile phone +44 7711 554472.
Or, contact us via email info@healthskillstraining.com
We provide Mental Health Nursing OSCE and Paediatric (Children) Nursing OSCE if nurses specifically looking for this OSCE training. All the Skills and Scenarios required are covered in detail in training.
Mental Health Nursing OSCE
Three Days Fully equipped comprehensive Mental Health Nursing OSCE Training covers all the essential Mental Health Nursing OSCE skills and Mental Health Nursing OSCE Scenarios. We have the 100% pass rate on our Mental Health Nursing OSCE Training. 100% satisfaction guaranteed with our robust training, support & constructive feedback. Why not ring us to find out more on: +44 161 743 4626 or +44 7711 554472
Mental Health OSCE Training Covers the following 
Skills: 
ANTT (Aseptic Non Touch Technique)
In Hospital Resuscitation (BLS)
IM Injection
Physical Observation (Completing NEWS Chart, GCS Chart, Community Observation Chart)
Subcutaneous Injection
APIE:
Assessment: Assessing patient with Mental Health Needs or Issues. Learning SOLAR, PHQ9 &MOCA Tools of Mental Health OSCE Assessment
Planning: Learning & practicing how to write an effective care plan by identifying mental health nursing needs
Implementation: Learning & practicing administering of medications to the patient
Evaluation: Learning & practicing how to write an evaluation as per the OSCE requirement.
Paediatric (Children's)Nursing OSCE
We provide a robust fully equipped Paediatric OSCE Training for nurses. All our nurses who attended the training had 100% pass success rate. Since the numbers and the demand is less into Paediatric OSCE we run one to one or small group Paediatric OSCE Trainings as and when required. We have accommodated all the nurses who contacted us and requested for this training. 100% satisfaction guaranteed with excellent customer feedback. Feedback matters hence we focus highly on providing a constructive feedback to nurses on the areas they have to improve.
Our Paediatric OSCE Training Covers the following:
Paediatric Nursing OSCE Skills: 
Paediatric Basic Life support (Infant & Child)
Physical Observations recording & completing the PEWS chart
Removal of Urinary Catheter
Subcutaneous Injection
Paediatric Nursing OSCE APIE:
Assessment: Learning how to assess a child with presenting complaints and completing a appropriate documentation
Planning: Learning & practicing how to write a care plan with various paediatric nursing needs
Implementation: Learning & practicing how to administer medications to a child using the appropriate medication(drug) chart)
Evaluation: Learning and practicing how to complete the evaluation of care as per the OSCE requirement.
Why not ring us to find out more on: +44 161 743 4626 or +44 7711 554472
New NMC OSCE- OSCE Test of Competency 2021 is the New 10 Station OSCE 
We provide the comprehensive very easy to understand 10 station New OSCE training for Adult Health, Mental Health & Children's Nursing.
New 10 Station OSCE Consists of :
4 skills stations out of total 16 skills
2 Mandatory writing Skills Stations which are Professional Values and behaviour and  Evidence Based Care
4 APIE Stations which will be tested on 9 different real life clinical scenarios where candidate need to assess the patient using ABCDE systematic approach, record vital signs on the observation chart in the assessment. In care planning identify two relevant nursing problems or needs pertinent to patient condition and plan care for of the same patient. Care Planning is a writing station. In Implementation administer medication to the patient using a medication chart following the 6 rights of the medication for a specific time given time in the scenario. In Evaluation candidate has to prepare a SBAR handover and give a verbal handover using SBAR to the doctor or to another Health Care Professional. In APIE you follow the same patient from assessment to Evaluation.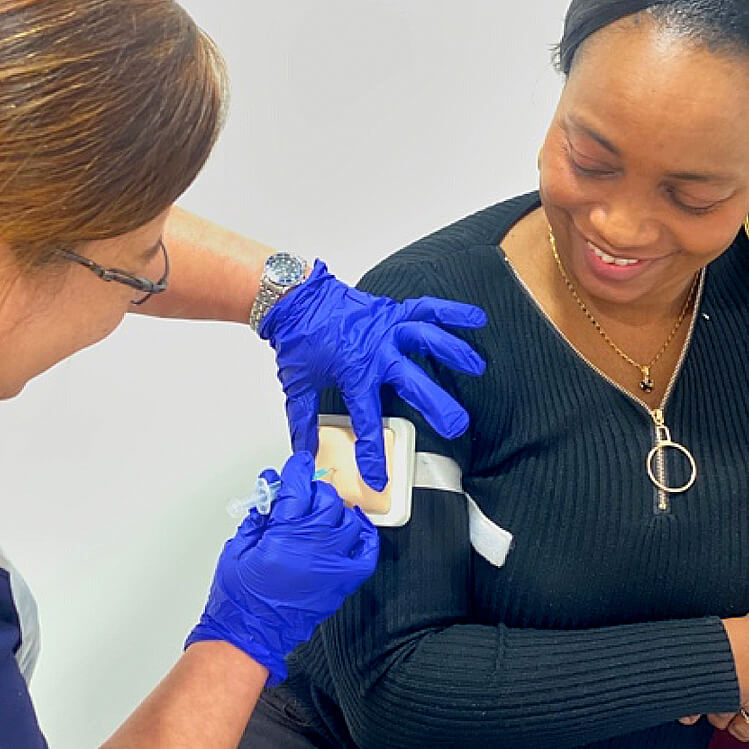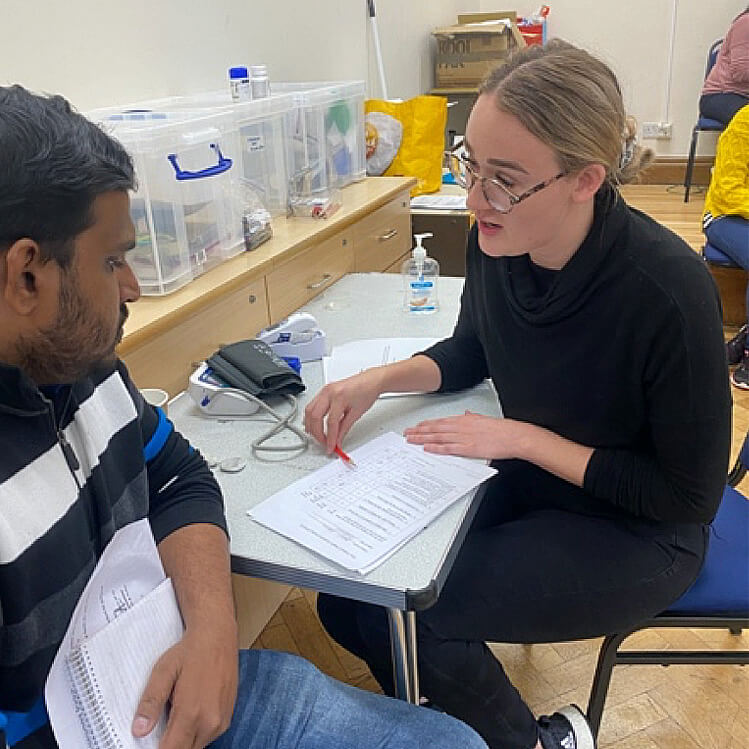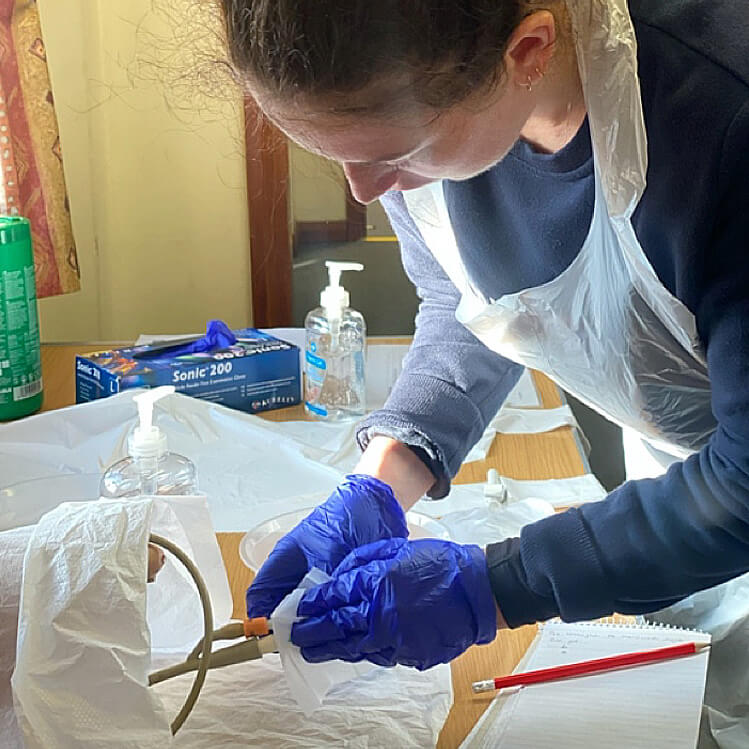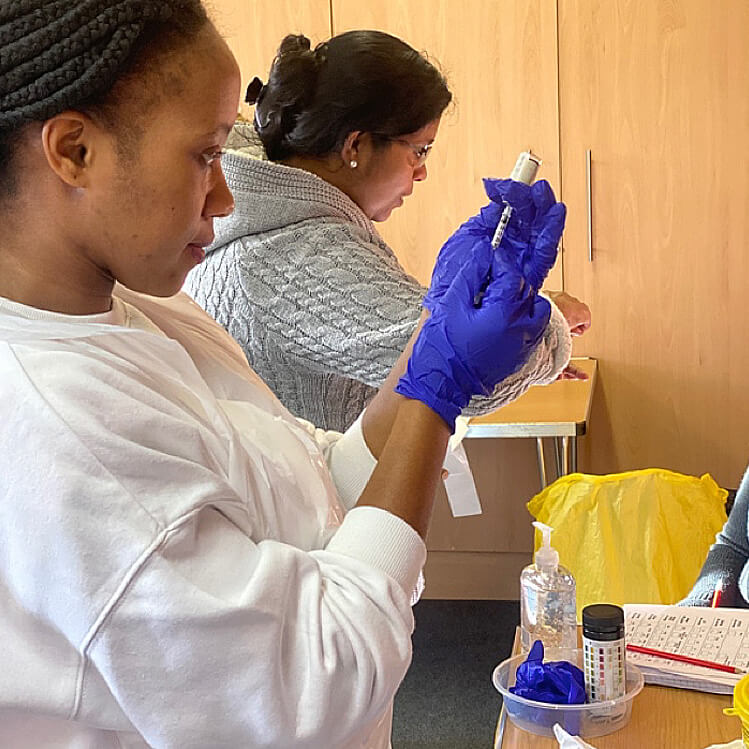 OSCE Training Dates Till June 2021
Manchester OSCE Dates
Nov 2020
18, 19 & 20
Dec 2020
2, 3 & 4
Jan 2021
13, 14 & 15
Feb 2021
3, 4 & 5
Mar 2021
10, 11 & 12
Jun 2021
16, 17 & 18
Further dates available under courses Onsite Training
London OSCE Dates
Jan 2021
8, 9 & 10
27, 28 & 29
Feb 2021
10, 11 & 12
24, 25 & 26
Mar 2021
3, 4 & 5
24, 25 & 26
Apr 2021
14, 15 & 16
28, 29 & 30
May 2021
         26, 27 & 28
Jun 2021
23, 24 & 25
Further dates available under courses Onsite Training
5 day courses are available – Please enquire
We also provide trainings at client specific venues if you have group of 5 or more candidates. We provide OSCE training for NHS & Care homes.
Do you require a Train the Trainer course to run your OSCE training?
Your Practice Educators or Nurses can be trained to run the OSCE training for your nurses.

See What Some of Our Customers Have to Say

B Kelly from USA
The training was great I feel much more prepared now than I did before recommend HST Ltd for their OSCE preparation.

G Moraes from India
BLS, Wound care and IM injections practice I enjoyed the most and recommend OSCE training for all.

J Eke from Nigeria
Trainer from HST Ltd was very knowledgeable and he built my confidence by demonstrating the right method and allowing us practice.

K Haynes from Australia
The process of what to expect and how to carry out the tasks was the most interesting thing I learned in the training.

N Perry from Australia
All steps of 6 workstation practice was interesting; I was fully stimulated all day to learn. I feel this day will be beneficial to my OSCE exam

E Perez
Very informative and very pleasant instructor.